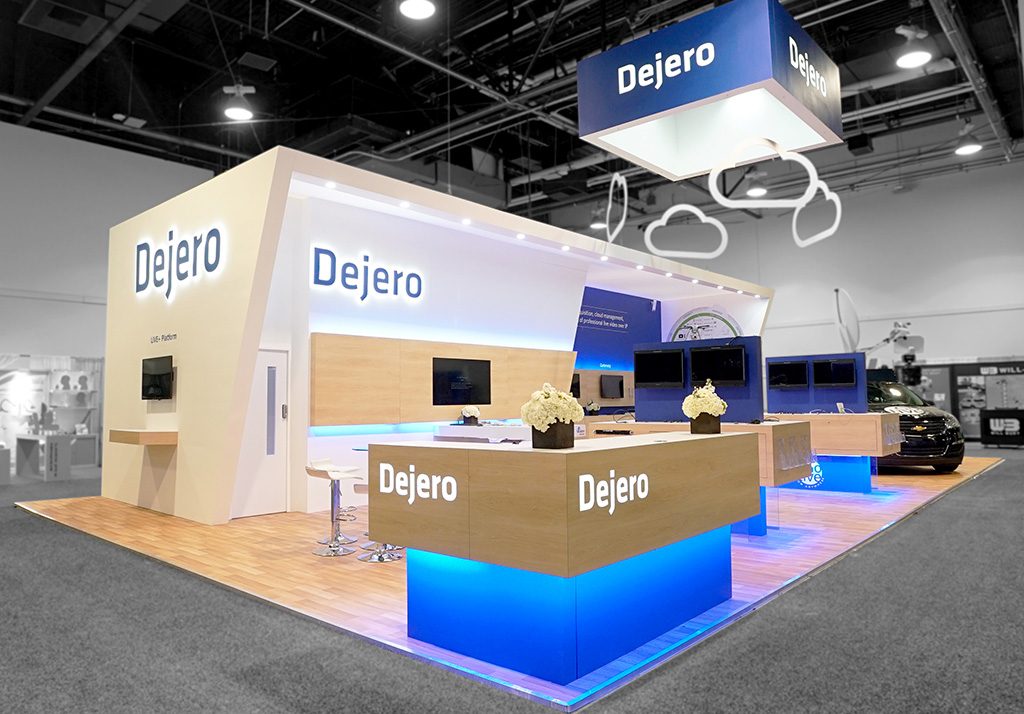 Working with Dejero
Latest Work
In April 2017 our team here at Prodigio attended the NAB (National Association of Broadcasters) Show in Las Vegas. This year we attended the show with an outstanding eight clients, with one of them being Dejero.
Prodigio have worked with Dejero for several years now designing, building and project managing their booth in New York, Amsterdam and Las Vegas. With large canopies, striking colour palates and a large 'frontline' vehicle it was no surprise as to why they were once again nominated for the prestigious ACE awards; recognising NAB show exhibitors for pioneering stand design.
Melanie Landry, Director of Marketing Communications, explained Dejero's nomination came from Prodigio capturing the "simplicity" and "cleanliness" of the brand from the development stages of stand design. She explained it's clear to see our development meetings and conversations are a process of "understanding" branding and ensuring the work we produce "match" the client whilst incorporating any necessities they may have.
We discussed how our work helps clients ensure they achieve success on the big day; Melanie detailed the stress relief from our work, explaining she didn't "have to worry" about the booth and all she had to focus on was her role on the day. The lack of stress enables our clients to work on strategic planning so they can achieve big results on the day, proving our work is a worthwhile investment.
https://youtu.be/pj7IxdRRA8o">https://youtu.be/pj7IxdRRA8o
After reflecting on our work we've created together over the past few years, Dejero explained our relationship has lasted so long due to our reliability, meaning they can always "count on us" to produce high quality stand designs. Melanie explained our reliability and communication has meant they consider us a "partner more than anything else". We believe that success is created from our strong relationships with our clients; this entails us to really understand their event needs, thus resulting in exceeding their expectations and delivering a truly outstanding experience with the Prodigio team, every time.
Our time at the NAB show in Las Vegas with Dejero was hugely successful and we'd like to thank Melanie for taking the time to talk and reflect with us. Our team at Prodigio are dedicated to integrating the needs of our clients, with our pioneering designs.