Prodigio Exhibitions and Events 2017
International News, Team Updates
In 2016 alone, Prodigio Design operated in a mammoth 18 exhibition and event locations around the World including… London, Amsterdam, Barcelona, Orlando, Dubai, Berlin, Sao Paulo, Dallas, Las Vegas, Cologne, Japan, Philadelphia, Paris, Shanghai, Taipei, New York, Cannes, Marrakesh and Hong Kong…
We have travelled approximately 113,399 miles around the world with our clients this year and look forward to increasing this figure in 2017!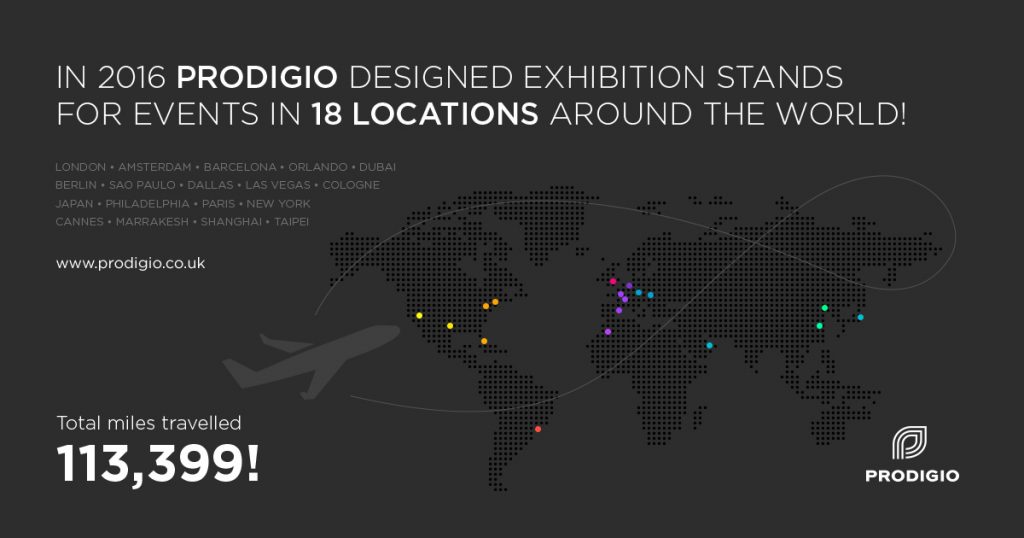 We feel incredibly privileged to design and project manage exhibition stands and event experiences for a variety of clients attending diverse events such as the NAB Show in Las Vegas and New York, the WTM Show in Excel and FIA Formula E in Hong Kong and Marrakesh to name just a few.
However, with 2017 fast approaching, we've barely got a moment to reflect because our hard-working team are already busy behind the scenes, planning for key shows next year.
The NAB Show held in the Las Vegas Convention Center is a great example, this event is a marketplace for digital media and entertainment. With its sister show, the IBC in Amsterdam at the end of the year, many of our clients maximize their budgets by having a stand that it used for both events. Let the team at Prodigio help you manage your year 2017 show budgets!
2017 also sees Prodigio continue to support the NextEV NIO team at the epic racing event that is the FIA Formula E Championship. This year we were tasked with designing an innovative new pit garage for NextEV, which was showcased at the first race in Hong Kong. With exceptional feedback and exclusive coverage from FIA Formula E, we went on to build and design another garage for the race in Marrakesh. We have a total of 8 more locations, around the world, before Season three comes to a close. So keep following us for updates on the race and event…
To check out our 2017 calendar of Prodigio's exhibitions and events, take a look at the list below and if you have any queries regarding a design for your company, don't hesitate to get in touch. Send an email to hello@prodigio.co.uk or call us on 01483 331 420.
JANUARY
BETT
Excel
FEBRUARY 
ISE 
Amsterdam 
CSTB 
Moscow 
FORMULA E
Buenos Aires 
CCW
Berlin
MWC 
Barcelona
MARCH
ITB 
Germany 
CABSAT
Dubai
ENTERPRISE CONNECT
Orlando
APRIL 
FORMULA E
Mexico City 
WTM BRAZIL 
Sao Paulo 
MRO 
Orlando
NAB 
Las Vegas
ARABIAN TRAVEL MKT
Dubai
TV CONNECT 
Excel
MAY
FORMULA E
Monaco 
FORMULA E
Paris 
ANGA
Cologne
JUNE
FORMULA E
Berlin
INFOCOMM US
Orlando
JULY 
FORMULA E
Brussels
FORMULA E
New York
FORMULA E
Montreal
SEPTEMBER
DMEXCO
Cologne
IBC
Amsterdam 
JATA 
Japan 
TOP RESA
France 
OCTOBER
MRO 
Excel
NAB 
New York
ITB ASIA
Singapore
NOVEMBER
WTM 
Excel 
GARTNER
Barcelona
ITF 
Taipei 
CITM
China 
DECEMBER
ILTM 
Cannes