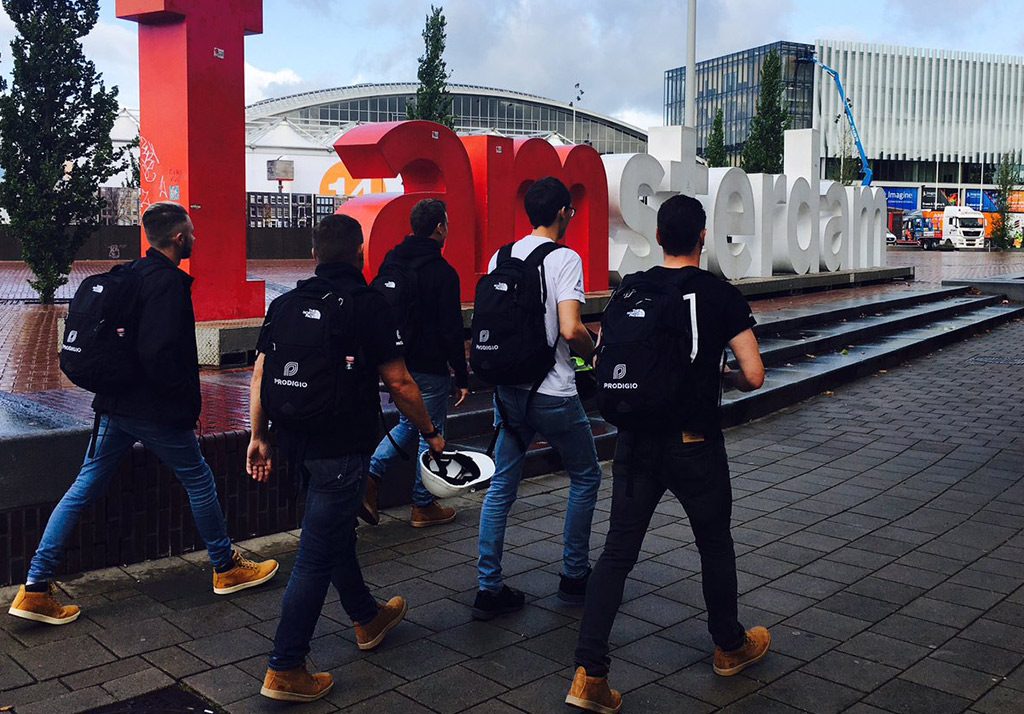 Prodigio at IBC 2017 in Amsterdam
Latest Work, Team Updates
International Broadcasting Convention (IBC) is the world's leading media, entertainment and technology show covering fifteen halls across the prestigious RAI venue. This particular show is always extremely insightful as the exhibitors showcase the latest trends that are driving the industry. The event was held from the 15th-19th of September in Amsterdam where the team supported eight of our wonderful clients. Please visit our YouTube channel for more video footage from the event. 
There is a tremendous amount of complexity that extends into designing and building a stand for these events. The planning and level of detail we orchestrate for our clients, often culminates in at least 20 technical drawings for any one stand. For accuracy, all elements of the stand will be measured and built precisely to the millimetre. We also ensure we are running the vital electrical and internet cables separately to reduce interference, which is a common issue at these types of shows!
Our team succeeded in having all of the exhibition booths built, tested and perfected in great time, the day before the start of the event. There are always last minute additions and changes (for example additional graphics to be added to the booth) that have to be made, but our strong network of suppliers ensure we fulfil all requests. We completed the builds comfortably on time and in turn our clients were extremely happy and as relaxed as possible about their booths.
For IBC 2017, we brought the whole team to Amsterdam, which allows the booths to be monitored by the key team members from the design and planning right through to the final product. This is extremely important to us as it ensures that the booth looks and operates exactly how the designer had planned , and provides an extremely personal service.
After great success at IBC 2017 we are now looking forward to NAB 2018 and already in planning mode! If you have any exhibition design requirements for NAB or any other event, please contact our team who will be more than happy to run through your ideas and specific needs. Click here to fill in our enquiry form.